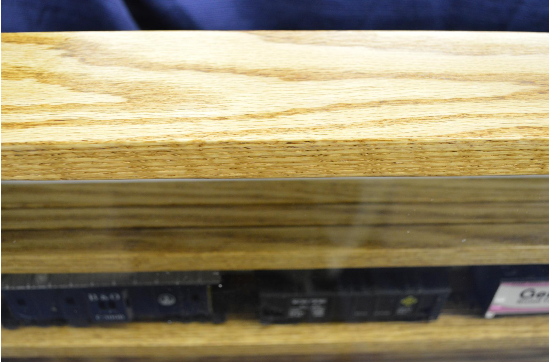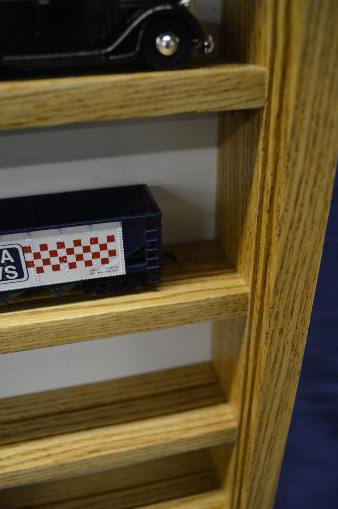 PCW's HO Train Display Cases are constructed with solid red oak frame and shelves, tempered glass sliding doors, and a white paneling backing. A medium walnut stain is used to accentuate the oak's natural grain structure.
The outer frame for HO cases is three inches in depth with two inch wide shelves. The shelf height ranges from about 2.6 inches to 3.25 inches, depending on the size of display case chosen. Shelves are permanently secured by nails through rear paneling and are sat on opposing end dowels.

The display cases are engineered to mount on the wall by drilling through back paneling into wall studs. Brass colored screws and washers and mounting instructions are provided for assistance during the mounting procedure. The tempered glass sliding doors are removable for mounting and cleaning.

HO display cases are also useful for other collectibles. The two inch wide shelves, and 2.5 inch to 3.25 inch shelf height provide a great home for standard sized shot glasses, matchbox cars, and smaller sized die-cast vehicles. As long as the "HO" grooves do not interfere with the stable balance of your collectible, you are ready for displaying your favorite collection.

If properly secured to wall studs, PCWs display cases are very sturdy, providing homes to many collections throughout the western United States. PCW strives to provide a product that will become a permanent and admired part of your home. We guarantee the quality of our product.

PCW's display cases are great dust defenders and will make your collection look better than ever before.

PCW offers HO train display cases in a wide range of sizes. Please refer to accompanying images for some of the shippable sizes available and refer to the "HO PDF" file at the bottom of this page for a complete list of available sizes and specifications.

Above: Solid Red Oak frame and shelves stained with a medium Walnut stain

Above: Shelves are "HO" grooved to fit the wheels of your 'HO" collectibe trains
Above: "HO" display cases work great for regular sized shot glasses, matchbox cars, and other diecast vehicles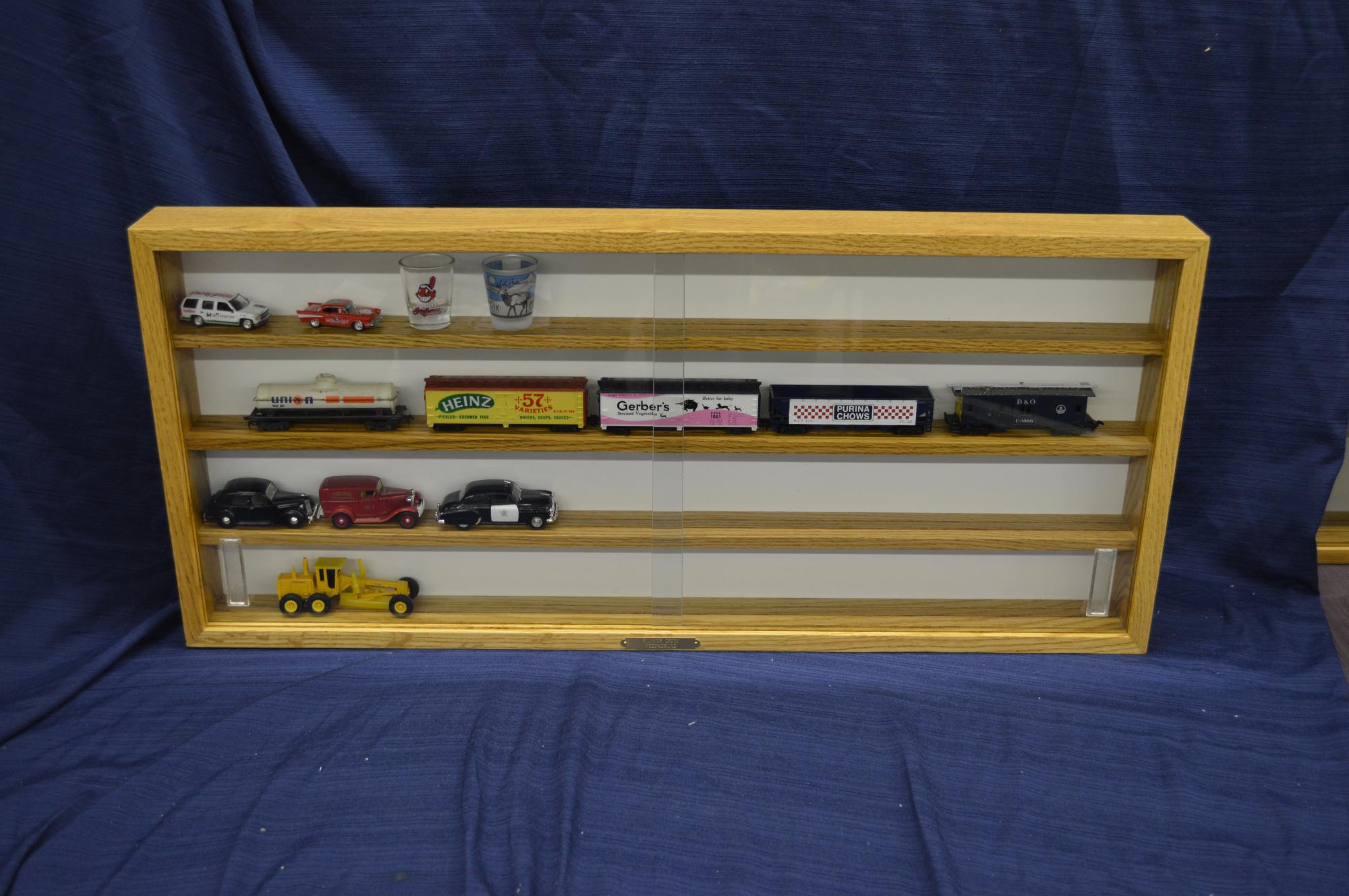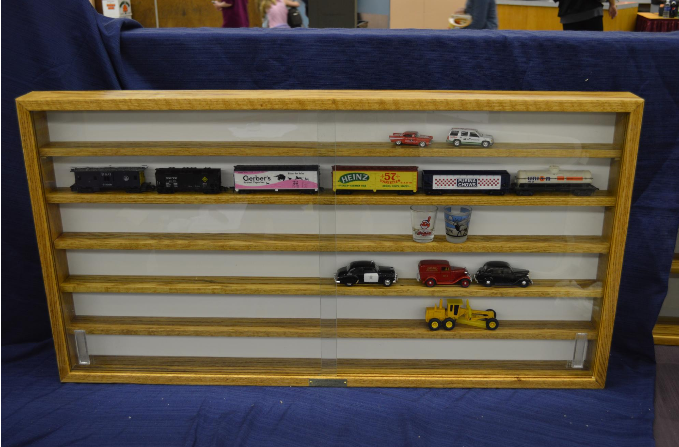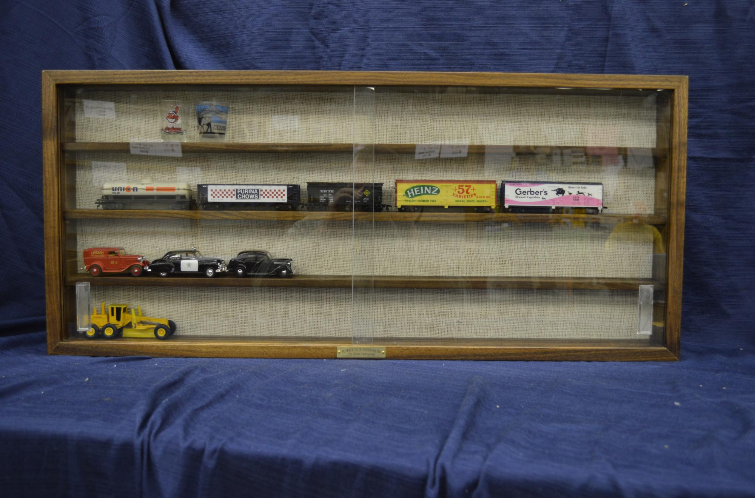 Above: HO 16 x 36 inch: 16 inch high by 36 inch long by 3 inch depth; 4 shelves, 34.5 inches long, 3.25 inch height; Capacity of 20 seven inch cars
Above: HO 21 x 40 inch: 21 inches high by 40 inches long by 3 inch depth; 6 shelves, 38.5 inch long, 2.6 inch height; Capacity of 33 seven inch cars
Above: HO 29 x 40 inch: 29 inches high by 40 inches long by 3 inch depth; 8 shelves, 38.5 inches long, 3 inch height; Capacity of 47 seven inch cars

Above: HO 16 x 36 inch/Walnut with burlap backing: 16 inch high by 36 inch long by 3 inch depth; 4 shelves, 34.5 inches long, 3.25 inch height; Capacity of 20 seven inch cars
"HO

"Gauge Train Display Cases